A compact and powerful dock, allowing you to connect your Switch to Bluetooth audio devices and TV.
Great Success in Kickstarter!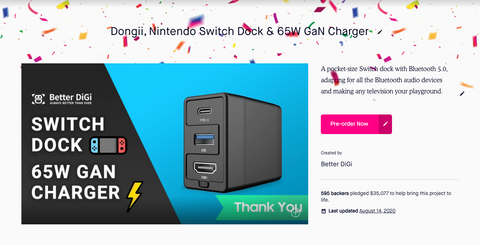 These days, we all suffer from too many heavy accessories for our devices - chargers, adapters, hubs, and docks. The same is true for Nintendo Switch. The official Switch Dock is expensive and cumbersome and will only work with a separate charger. Packing all that gear really takes the fun out of a gaming meetup with friends. As game lovers, we wondered if a Switch dock could be more portable and simple?
The answer is definitely yes!
We created Dongii, a pocket-sized dock, with Bluetooth 5.0 and a detachable 65W GaN charger, allowing you to connect your Nintendo Switch to most any television and wirelessly connect to Bluetooth headphones or speakers for a more immersive gaming experience. 
Dongii can also quickly charge other devices thanks to its USB-C PD support. Smaller than the original docking station and with more functions than a charger, Dongii is the ultimate portable dock for the Nintendo Switch that provides the simplest way to connect to a TV and fast-charge any device.